Cori and Legacy Benjamin are two girls from Beverly Hills, California looking to change basketball forever.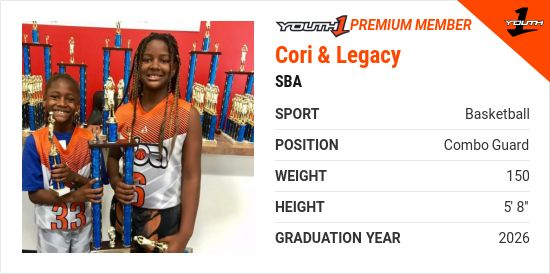 Cori is the top prospect in the 2026 class and is already 5'8 at the age of 11. She has dreams of becoming the first girl to ever play in the NBA over the next decade.
Legacy just turned 10 years old and is already an ankle bully. On offense her handle combined with her shooting ability makes her lethal from all over the court, she is just as good on defense locking down opposing ball handlers and stealing the ball at will.  
Legacy recently became the first girl in EBC history to receive an MVP award, while Cori received recognition as an outstanding player playing up with the 7th and 8th grade boys.
Both sisters are unique in their own way and approach the game different but they have one trait that ultimately makes them successful, their work ethic. 
Cori and Legacy both train at least three hours per day, they have personal trainers for basketball, a shooting coach and even a personal trainer for footwork.
In the future both girls have set the bar high for themselves, as previously mentioned both want to be trendsetters and become the first women to play in the NBA. However before the NBA both girls want to play college basketball at USC. 
Tyra Hunt, Cori and Legacy's mother spoke about what her daughters so special on the court.
"Even though my daughters are very young they are extremely talented with a very high basketball IQ." Said Hunt. "They are years ahead of the game and their competition, the future is female and we plan on paving the way."
With such talent and big goals it will be interesting to see Cori and Legacy develop in the years to come.
x
Youth1's Recruiting Counselors are on a mission to educate student-athletes and families about the recruiting process.  The process starts early and is very competitive so we want to make sure we do whatever we can for families interested in learning more about the college athletic recruiting process. We're here to answer your questions and provide guidance through the important decisions that will shape your athlete's journey in sports.
Enter your information below to speak to a Youth1 Recruiting Counselor.
Become a Premium Youth1 member today for access to unlimited articles, player profiles, rankings, and savings and discounts on youth sports goods and services.