Javius Holmes is one of the best players from the Pinson, AL area in the Class of 2024.  
The 5-foot-6, 137-pound Holmes, who attends Clay-Chalkville High School, is a dynamic player that works as a combo guard.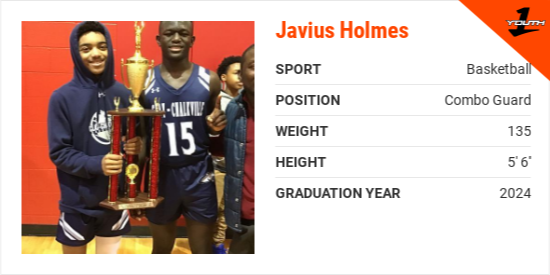 Holmes has attended a DeMarcus Cousins camp and the Global Grassroots camp.  
No matter the opponent, every game Holmes is determined to give it his all. 
Holmes is going all out. 
The motor is always at full throttle whenever Holmes steps between the lines.
"When I'm running point guard I make sure I keep my teammates spaced out on offense," Holmes said. "At shooting guard I make sure every time the ball is in my hands I shoot it."
Holmes has great passion and energy whenever he's on the court. Holmes tells why he enjoys the game of basketball so much. 
"I love playing shooting guard the most because I know I can shoot the ball and I can work great on the off-ball movement," Holmes said. 
Holmes has learned many valuable lessons from playing basketball that he applies to his everyday life. 
"Basketball has always taught me never to give up," Holmes said. "You win some, you lose some."
Holmes shares his favorite basketball memory. 
"When I dropped 19 points with 6 3 pointers in  a comeback game," Holmes said. 
Holmes takes his role as one of the leaders on the team very seriously. Holmes makes sure he's a daily positive influence on his peers.
"I help my teammates when they don't know something or what to learn. I show them and guide them," Holmes said. "The best advice I give them is to make sure every time to sit on the player on defense and talk on defense."
Holmes is appreciative of having amazing male role models that are supportive.
"I've learned how to be a leader. They showed me how to be great under pressure," Holmes said. "The best advice I've gotten is to just play the game of basketball in a fun way and be a team leader."
Holmes patterns his play after this all-time great shooter.
"I look up to Klay Thompson because I watch the way he shoots the ball and I just copy the form of his jump shot," Holmes said. 
Holmes lists history as his favorite subject in school. 
"There's a lot more I want to learn about like where the water bill came from and how did they make them and stuff like that," Holmes said. 
Holmes explains his collegiate aspirations. 
"My top college choices are Alabama, Auburn and Duke. I chose Alabama and Auburn because it feels like I want to stay closer to home," Holmes said. "I chose Duke because I want to reach my highs of getting a 4.0 GPA."
Holmes maintains a rigorous schedule to stay sharp.
"I do dribbling drills with tennis balls to improve my ball handling," Holmes said. "I take each shot I shoot with my right hand only to improve my wrist flicking."
Holmes is striving for greatness in all that he does. 
"In high school I do want to win state but my goal for high school is to graduate and to get people to know my name," Holmes said. 
Holmes describes what he believes separates himself from the pack. 
"What sets me apart from other athletes is that I show great leadership and that some of the other players just want to win but I just want to get better," Holmes said. "I don't care about winning until I make it to varsity."
x
Youth1's Recruiting Counselors are on a mission to educate you on the recruiting process - one that's very competitive and starts early. Let us provide guidance through the most important decisions that shape your athlete's journey in sports.
Learn how to become a recruitable student-athlete, find out what colleges you match best with, and get the ability to message college coaches directly with a specialized recruiting package. 
Don't wait, schedule a time to speak with a Youth1 Recruiting Counselor. It's FREE! Just fill out the following information and then select a date and time in the form below. 
---
This article was written and posted by one of our talented contributors. If you think you've got the writing, research and social media skills to join Youth1's freelance team then send a resume and writing sample to sdelia@youth1.com for consideration.