Carl Lewis
What does it mean to be a champion? Is it defined by the number of races won, the medals earned, the times left in the record books? Or is it something else entirely?
Carl Lewis is a 10-time Olympic medalist, eight-time World Champion, and one of the best to ever compete. But he's also more than that. He's an icon who professionalized track & field and a mentor who works tirelessly with the next generation of athletes to ensure the sport's advancement. His extraordinary impact on track & field is the true mark of a champion. For Carl Lewis, the future is his legacy.
THE ATHLETE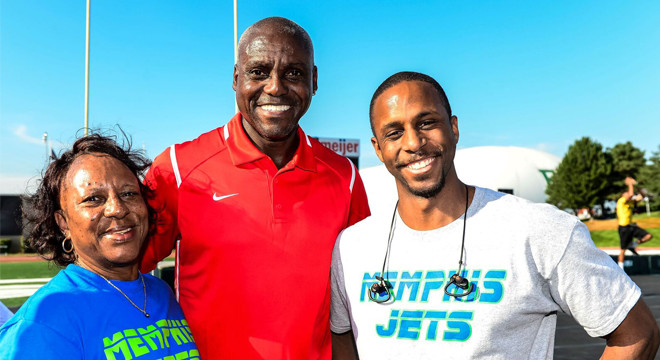 Lewis began competing in track through AAU during the late 1960s, and his family played a major role. With many relatives who were Olympic and collegiate-level athletes, his parents became his first coaches and older siblings became his role models.
"Looking back on it," Lewis said, "I think the best thing about my career when I was growing up is that we were always together. All my friends ran track and my parents were coaches of the team, and other parents were volunteers. AAU Track & Field is a family affair. It gives a tremendous opportunity that no other country in the world has. Part of the reason we're so good is because our AAU system gives kids the opportunity to compete at every age level."
Lewis took full advantage of that opportunity. For him, track was more than a hobby. It was his passion. His life. His dream. And as his jumps got longer and his race times grew faster, the world started to take notice.
"There were layers to it," Lewis explained. "I went from, 'hey, I could make the Olympic team,' to, 'I'm the best in the world,' to, 'I could change everything.'"
 
"I realized the magnitude of everything I was doing, and it was pretty amazing."
CARL LEWIS
It's difficult for Lewis to pick a favorite moment on the track. He's torn between 1984 in L.A. and 1996 in Atlanta, the two Olympic Games that stand as bookends to his competitive career. One overwhelming, and one a little bittersweet. But on one point, he is 100% clear.
"I didn't want to be that person who says, 'Gosh, I wish I had tried that. I wonder if I could have done it.' I was not afraid to fail. I was more afraid of not knowing. Even though I didn't win everything and I made mistakes, I still feel like I did everything I could have."
THE COACH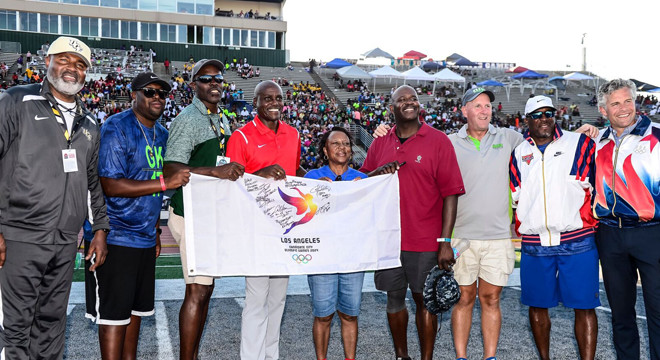 All of life's most compelling stories come full circle, and Carl Lewis is no exception. Today, he applies this fearless attitude to coaching at his alma mater, the University of Houston. His biggest advantage as a coach is a deep understanding of what his athletes are going through.
"I ran every single race, from high school to college to Worlds to the Olympics," Lewis explained. "I've done all of them. Everything. So I know what the athletes are thinking. I try to go back to the experiences that I had and relate to them and talk to them so they realize, 'wow, this guy's in my head.'"
And, as Lewis knows all too well, most of the time there's A LOT going through an athlete's mind.
"That's one of the biggest problems athletes have," Lewis said. "They try to be too emotional instead of simple and focused. It's really about simplicity — slowing everything down and focusing on what you're doing, trying to work on what you can control.
 "You improve during the week and you show it in the meet. Spend the week building the confidence to perform on Saturday."
CARL LEWIS
To keep his athletes motivated through the weekly grind of training, Lewis creates simple ways for sprinters to measure their own success.
"Our Monday workout is designed to get faster every week — maybe only 5/10 of a second, maybe a whole second, it doesn't matter. So, if you ran faster this Monday than you did last Monday, and then you run faster Saturday [at a meet], that becomes a marker. So there are workouts during the week that can tell you how fast your weekend is going to be."
THE PERFECT METHOD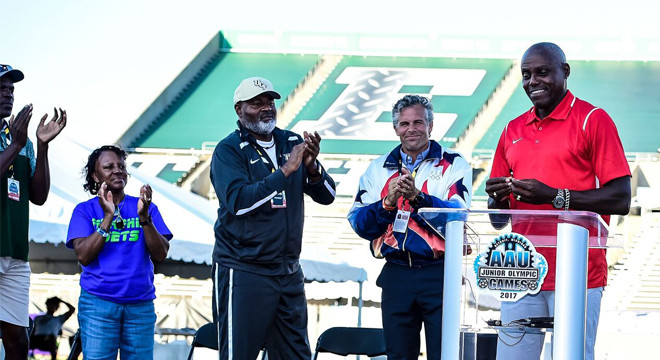 But helping college athletes isn't enough for Lewis. He wants to start sooner. Through his partnership with AAU Track & Field, Lewis hopes to grow the sport for years to come, helping athletes make strides early on in their careers, so that when they reach higher levels of competition, they're ready to chase down success.
That's why he's created The Perfect Method, a training program designed to help mentor runners looking to improve at all levels.
"You know, my parents were coaches," Lewis said. "My mother made the Olympic team, and my father competed at the collegiate level, so they had a lot of experience that they could give. That's unique, that's rare. But The Perfect Method allows me to be that person to everyone, and that's really exciting."
Author: Brianna McKichan
Tags: aau, Carl Lewis, Eastbay, Perfect Method, Running, track, Training
Originally published at blog.eastbay.com 10.12.17
x
Youth1's Recruiting Counselors are on a mission to educate you on the recruiting process - one that's very competitive and starts early. Let us provide guidance through the most important decisions that shape your athlete's journey in sports.
Learn how to become a recruitable student-athlete, find out what colleges you match best with, and get the ability to message college coaches directly with a specialized recruiting package. 
Don't wait, schedule a time to speak with a Youth1 Recruiting Counselor. It's FREE! Just fill out the following information and then select a date and time in the form below. 
---
This article first appeared on www.aauathletics.org, one of Youth1's sources for Track articles. To submit your site for consideration for Youth1 syndication, please email Laura Petrillo at lpetrillo@youth1.com.