Christopher Vargas - QB - Lawrence, MA
Vargas recently reclassified to the 2028 class. This makes him easily the #1 QB prospect in the class.
Vargas is a very talented young passer who throws the ball with accuracy. He shows great comfort in the pocket, and also throws the rock well on the move. Even when pressured, Vargas does an outstanding job of keeping his eyes downfield. I just love his confidence in his ability to make big plays, which he does often.
Check out my Monday Morning Quarterback interview with Christopher below!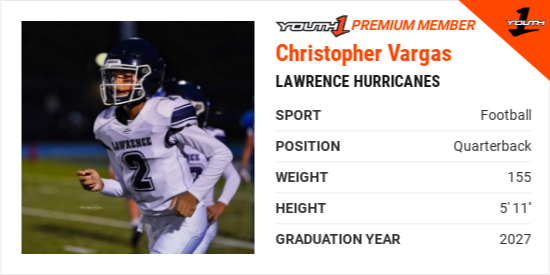 Austan Cristiann - QB - Fort Myers, FL
Austan is impressive for such a young QB. His arm strength, accuracy and understanding of the game are top notch. He's a winner and plays with a confidence that elevates his teammates.
Check out my Monday Morning Quarterback interview with Austan below!
Rory Funke - QB - Needham, MA
Funke is a lefty passer that throws a beautiful ball. He shines when throwing the deep ball and shows a real comfort throwing on the move as well as in the pocket.
He has the ability to be a dual-threat with his impressive athleticism.
Christian Cypher - QB - Carrollton, GA
Cypher is one of the fast risers in the 2028 class. He's got an IT factor that's captivating when he's on the field. His arm talent, accuracy, and confidence makes him one of the elite prospects in the 2028 class.
Don't be surprised if he's Georgia's next big youth QB!
Donovan Warren - QB - Houston, TX
Warren makes throwing the ball look easy. He plays with a confidence that allows him to fit the ball into tight windows. He can make all the throws needed, with the ability to make impressive throws while on the move.
Check out my Monday Morning Quarterback interview with Donovan below!
Neimann Lawrence - QB - Florida
Lawrence is already 6'0" 150 lbs,. which gives him great size for a young talented QB. He's got the arm to go with his physical stature.
He's become a name to watch from the 2028 class.
This is just a sneak peek of the athletes featured on our Next Up Watchlist featuring the 2028 class. The full watchlist will be available on August 1st!
To view the list when it releases, get your Youth1 membership here!