If you're looking for a new glove for this upcoming season consult this list first. 
Trying to decide between youth baseball gloves can make for a difficult decision – especially for someone who isn't familiar with the intricacies of selecting baseball equipment. Oftentimes, parents shopping for their young players find themselves faced with the same set of challenging questions:
    Which brand is the best?
    What size glove does my child need?
    Does the type of material make a difference?
If you've found yourself asking these, or similar, questions, don't worry: you're about to get some help.
Here we've put together the most comprehensive article on the internet for helping you choose the best youth baseball glove for your recreational or little league player. In addition to offering you our expert-selected picks for the top five youth gloves on the market, we'll also go over all of the crucial information you'll need to make a smart, informed decision while purchasing the ideal glove for your child.
Youth Baseball Gloves: Top 5 Best Picks
In case you don't have the time to read through our entire buyers' guide, we wanted to begin by listing our top five picks for the best youth baseball glove of 2017. These five choices include gloves that fit into all budget and performance needs, and any of them would make great choices for just about all amateur youth players.
Easton NATY1200 Review
VRS Palm Pad Softens Impact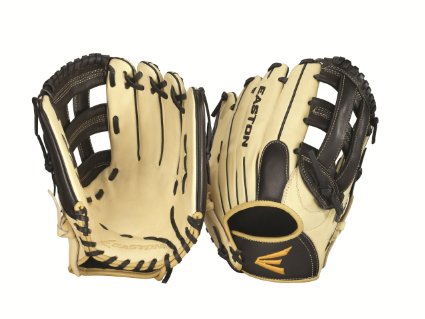 Our #1 pick for the top youth baseball glove of 2017, the Easton NATY1200 brings all of the comfort and quality of a high-end adult glove down to a more compact children's size.
The 12" size of the NATY1200 makes it ideal for older little league players, as well as those in outfield and first base positions. That's because the glove's larger dimensions make it easier for younger players to catch and hold onto the ball.
For maximum speed and flexibility, the pocket on this youth glove is designed in an "H" web open back pattern. It also comes equipped with a helpful VRS palm pad that softens the impact from baseballs which are caught in the palm of the glove.
One of the best features of the Easton NATY1200 is that it's super easy to break-in. After just a little bit of use, and a little steaming or conditioning, your child will have a high-quality, comfortable and flexible baseball glove that's ready for game day. For that reason, this Easton mitt is our number one pick for the best youth baseball glove of 2017.
Mizuno GPP1150Y1 Review
Great for All Positions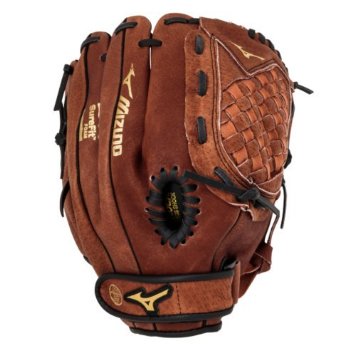 If you're looking to buy a super comfortable, well-crafted glove that will be already broken-in and ready for your child's use, the Mizuno GPP1150Y1definitely deserves a closer look.
Crafted from professional quality treated leather, the GPP1150Y1 is one of the most comfortable ready-to-go youth baseball gloves out there. Your little league player could put it on as soon as it comes in the mail, and be ready for practice or the big game the next day.
At 11.5", this Mizuno youth glove is perfect for nearly every position except for catcher, and it's large closed-mesh pocket makes catching fly balls, grounders, and throws much easier than models with smaller dimensions.
One inherent disadvantage of the Mizuno GPP1150Y1 is the fact that it's soft, flexible shell doesn't provide the same level of cushioning as other more rigid youth gloves. This can be a negative for outfielders who are constantly fielding fly balls. Conversely, the fact that the glove is so flexible, aided by its patented PowerClose design, works wonders for improving the handling and ball control of infielders.
Wilson A360 Baseball Glove Review
Great Budget-Priced Youth Glove
The Wilson A360 Baseball Glove is one of the most diverse, multi-functional gloves out there. This youth baseball glove comes in a range of different sizes starting with size 10 and running all of the way up to size 12.5, and its custom craftsmanship makes it a good choice for any base or fielding position.
Unlike the other gloves we've talked about so far, however, the A360 is not made entirely out of leather – it's half-leather and half-synthetic. While this means it may not provide the same level of long-lasting construction and comfort as some of the other models, it is priced accordingly.
The Wilson A360 Baseball Glove is a solid choice for anyone searching for a backyard glove, or an all-purpose glove for the first-time or young amateur player. It's also a good pick for anyone specifically looking for for kids baseball gloves that fit in a tight budget.
Easton ZFX 1051 Review
40% Larger Glove Pocket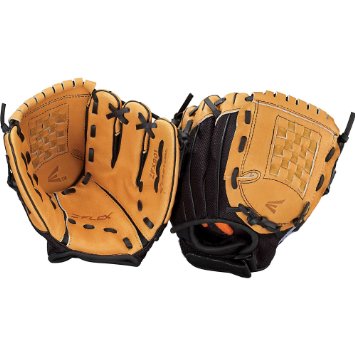 A great choice as a low-end practice glove, theEaston ZFX 1051 utilizes an ultra-soft leather to provide mid-grade comfort as a very reasonable price.
Thanks to Easton's Grab All Web design, this youth baseball glove's pocket is 40% larger than you'd traditionally find in a youth glove. This equates into your player having a much easier time learning to catch and hold onto balls.
One unique feature of the ZFX 1051 is that there are only four finger slots: one for the player's thumb and three more for their fingers. That's because the ring and pinky fingers are supposed to share the same slot, giving younger little leaguers more control over closing the glove and grasping the ball.
Overall, the Easton ZFX 1051 is a great youth baseball glove for home play for practice, but is not the best choice for game play or older children. It will, however, work as a low-cost solution for younger little league or recreational players.
Rawlings Youth Player Preferred Review
Only 10% Break-In Required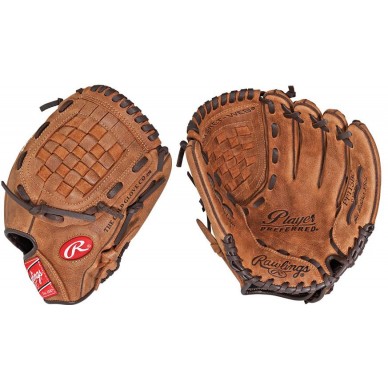 One of the top youth gloves on our list for infielders, the 11" Rawlings Youth Player Preferred is equipped with both "V" web and Pro Taper patterns that are perfect for anyone whose playing middle infield positions.
Because of its soft oiled leather shell and rawhide laces, the Youth Player Preferred is another kids baseball glove that's ready to go as soon as your child gets it. With only a 10% player break-in required, this high-quality youth glove is great for the inexperienced player (or parent) who doesn't have the time or knowledge needed to effectively break in a stiff glove on their own.
Great for youth players of different ages, this Rawlings glove has a neo-flex back that's equipped with an adjustable Velcro strap for the perfect fit on almost any hand and wrist size.
The Rawlings Youth Player Preferred is also one of the best crafted gloves on our list. While youth gloves rarely last for too many seasons because of how quickly children that age grow, this one is likely to hold its quality for as long as your baseball player – or their younger siblings – fit into it.
Source: RespectableReviews.com