Jordan Thompson is one of the best players from the Seymour, WI area in the Class of 2026. 
The 5-foot-5, 160-pound Thompson  is a dynamic player that works as a fullback and tight end.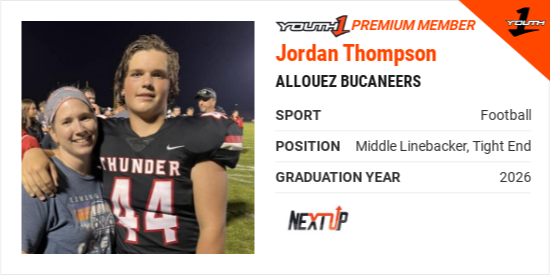 Thompson has earned plenty of recognition during his career, such as being chosen twice to be part of the team from Green Bay to play in the National Youth Football Tournament held in North Carolina.
Thompson is humbled by the accolades. 
"It was awesome to be picked out of all the area NYFO players to be on the tournament team that played at Nationals," Thompson said. "The experience was a lot of fun and we got to play against really good teams from different states."
No matter the opponent, every game Thompson is determined to give it his all. 
Thompson is going all out. 
The motor is always at full throttle whenever Thompson steps between the lines.
"Doesn't matter where I play, my mindset is to work hard until the whistle is blown," Thompson said. 
Thompson has great passion and energy whenever he's on the field. Thompson tells why he enjoys the game of football so much. 
"What I love most about playing is playing is the competition, to be able to give 100 percent of my best every time I play, and playing with my teammates," Thompson said. 
Thompson has learned many valuable lessons from playing football that he applies to his everyday life. 
"Playing has taught me that to get places you have to put in the work," Thompson said. 
Thompson shares his favorite memory of playing football.
"My favorite memories are playing with my teammates. We always try to one up each other in practice," Thompson said. "Every practice we work hard to keep getting better and better."
Thompson takes his role as one of the leaders on the team very seriously. Thompson makes sure he's a daily positive influence on his peers.
"I demonstrate being a good teammate by helping them get better, encouraging them on every play, and being happy when they do good," Thompson said. "The best advice I give is to always keep getting better and always play at 100 percent."
Thompson is appreciative of having amazing male role models that are supportive.
"My 5th grade Bucs coach Matt always said to play hard til the whistle blows.  He also said grades are important and to be a better person you have to put your grades right up there with football and work hard at both," Thompson said. "The best advice I've gotten is to always keep going and if you started something you must finish it."
Thompson's coaches rave about his team-first attitude. 
"Jordan is a very well rounded player and an absolute pleasure to coach.  He works hard, listens well, learns quickly, and always has a positive attitude.  On the field he is aggressive, has good technique, and has a great feel for the game," Coach Mark Schmoll said. "Jordan can run the ball well on offense and is a great tackler on defense.  He has the work ethic and discipline to do great things in football and life."
Coaches rave about Thompson's work ethic. 
"Jordan's work ethic is like no other that I have ever seen in a young man at this age," Coach Steven Childers said. "His desire to be better is what pushes him to take sports a little more seriously than most 11,12, 13 year olds, and he continues to improve with everything he does."
Thompson is the consummate teammate that's willing to do whatever it takes to help. 
"He is the type of player that coaches dream of. Jordan will do anything you ask of him and put his full effort into it, regardless of what it is. Jordan is a true team player and a great leader," Childers said. "As his coach, he has made things easier for me knowing I can trust him to get the job done, especially in crunch time. I think Jordan has scored more touchdowns, on the same exact route/play, than most youth athletes will in their entire career."
Thompson is also a crunch time leader for his squad. 
"When the game is on the line, he's our guy. Jordan's willingness to do anything asked of him speaks volumes as to his maturity. He is truly the complete package for a 13 year old athlete," Childers said. "He works for everything he gets and he sets a great example to his teammates and other players throughout the league."
Thompson patterns his mentality after this standout.  
"I look up to JJ Watt because he is always working hard and he's also a good person too," Thompson said. 
Thompson lists gym as his favorite subject in school. 
"I get to compete in all the games we play," Thompson said. 
Thompson explains his collegiate aspirations. 
"My top interests are Wisconsin, Ohio State, and Alabama," Thompson said. 
Thompson maintains a rigorous schedule to stay sharp.
"I work out at Synergy Sports Performance 3 times a week.  I do weightlifting along with a speed and strength program that one of the trainers put together for me," Thompson said. "I also attend the workout sessions that are for football players."
Thompson is striving for greatness in all that he does. 
"I want to work really hard all year long to reach the best I can be so I get noticed," Thompson said. "I want to get a scholarship to play football in college."
Thompson's coaches believe the future is bright for him. 
""He is always the first player invited to play for me in any leagues and/or tournaments that we are a part of, including our two national tournament teams," Childers said. "I know Jordan can and will do anything he puts his mind to and will always have the highest endorsement from myself as well as many others."
Thompson describes what he believes separates himself from the pack. 
"My work ethic--I always want to work harder than everyone, always one up them.  You hit me, I hit you back harder," Thompson said. "Always being a leader to my teammates and getting them to work harder and compete.  Always showing respect."
x
How can we help? Your concerns are ours.
Youth1's Recruiting Counselors are on a mission to educate you on the recruiting process - a  process that starts early and is very competitive! Let us provide guidance through the most important decisions shaping your athlete's journey in sports.
Schedule a time to speak with a Youth1 Recruiting Counselor. It's FREE!
Stop waiting to get recruited! 
Recruiting Wizard puts the power into your hands. Click here to learn how. 
Become a Premium Youth1 member today for access to unlimited articles, player profiles, rankings, and savings and discounts on youth sports goods and services.
---
This article was written and posted by one of our talented contributors. If you think you've got the writing, research and social media skills to join Youth1's freelance team then send a resume and writing sample to sdelia@youth1.com for consideration.